Balloon entertainment is a great way to add color and artistry to any event.  Balloon twisting provides an extra gift for your guests, and the Stupendous Storytelling Balloon Show is a very fun show!

Give your guests something customized and unique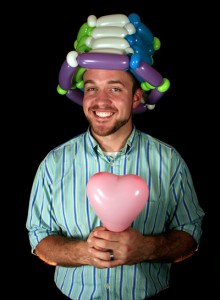 to take home.  Balloon twisting is a form of art and entertainment that is reaching new heights.  Wright Entertainment, LLC Artists are not your grandpa's dog and sword twisters (though they make some great dogs and swords).  Rather, they take the art to a new level.  Jeff Wright has been a part of some of the largest and most elaborate projects in the country and attends international conventions every year to further enhance his skills.  He also performs the unique and exciting Stupendous Storytelling Balloon Show. But enough about us, let's talk about what we can do for you!
Balloon Art is a great way to liven up a room.  As the special sculptures are created, the room literally comes alive with color.  The photo opportunities are endless.  Speaking of capturing the moment, our Balloon Artists help create lasting memories of your amazing event by giving your guests a tangible, one-of-a-kind creation that will stay in their memories long after the air is gone.
Here are some of the most common services available for balloon twisting; custom services are available through consultations: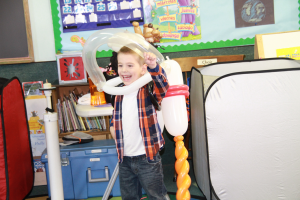 Standard Balloon Twisting:  The Artist sets up a small table or puts on an apron and goes table to table and makes amazing balloon creations for your guests.  They are entertained by our artists during the creation process, wowed by the result, and are left with a one-of-a-kind tangible take-away from your event.  Our artists adjust the complexity and elaborateness of their creations based on the expected volume output per hour.  For free artistic reign, we recommend around 15-20 guests per hour, but we are happy to accommodate more by creating simpler sculptures.
"Hi Jeff, We wanted to thank you very much for doing a WONDERFUL job at our son's party. You were a hit! The kids loved you! You made balloon creations like no other! You are very good at them. The kids are still talking about it! Thank you again for a perfect job!"- Holli, Norton OH
The Stupendous Storytelling Balloon Show: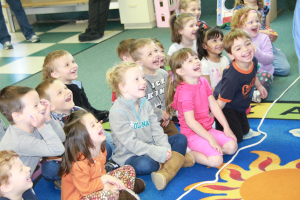 Jeff Wright combines his experience as a balloon twister and a National Comedy Theatre Improv Alum to present a unique form of entertainment with the Stupendous Storytelling Balloon Show.  The actors are all volunteers from the audience, and the props and costumes are all made out of balloons, and audience participation is the key ingredient as you and your guests are the stars of this crazy and colorful performance.  Read more on the show's website.
"Jeff Wright's show was a wonderful combination of humor, magic, storytelling and balloon fun for all ages. No waiting in line for balloon animals! This was a real show with non-stop action for nearly an hour. Lots of audience participation and lots of laughs. Jeff is always smiling and has a great rapport with the kids. I recommend him highly!" -David McNally, Cuyahoga County Public Library/Solon Branch



VIP Balloonicatures:  The Artist sets up a small table and chairs and creates "Balloonicatures" of your VIP guests.  Your guests have seen portrait painters, they've seen caricature artists, but they've never taken home a balloon likeness of themselves!  We can match clothing, hairstyles, and accessories!  We average 10 guests hour for these amazing one-of-a-kind sculptures.
Balloon Décor:   From arches, to columns, to canopies, to center pieces.  Our decorators have the experience and artistic vision to create an amazing environment for your special event.  Add a touch of class, or just make your guests say "wow" as soon as they enter the room.  Our lead decorator boasts an enormous portfolio and would love to sit down with you to discuss options for your next event.
Deliveries:  Send a Balloon-a-gram to a friend or loved one.  All designs are custom to your order.  Deliver a cute creation to a sweetheart or have a big embarrassing hat delivered to a friend at the office.

CONTACT US today to book a balloon artist.