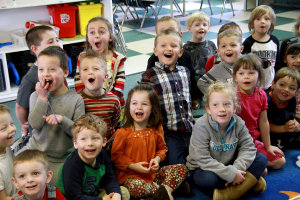 Wright Entertainment, LLC is a part of 5Star-talent.com, Winner of the Nickelodeon Parents' Picks Award for Best Party Entertainer in Cleveland. 
References are available upon request.  In the meantime, here is what people are saying about Wright Entertainment:
"Jeff is one of the BEST PERFORMERS we have ever had at the Library! He is very organized and professional and had instant rapport with his audience. His show is fast paced and very funny and the hour flew by. I highly recommend Jeff and his balloon show!" -Paula Shadle, Children's Services Manager, Avon Lake Public Library
"I was at one of the performances at the Green Library on 6/27. I've never seen my son laugh so hard and participate so much, as he is usually quite shy! [Your] show was outstanding and was just as amusing for us adults as it was for the children! Thanks for a very fun and imaginative morning. You are truly a genius with the kids. Thanks for all you do. It is apparent that you work extremely hard at your craft, and that you love it. It was a joy to watch. " -Renee Lee, Satisfied Parent
"Hi Jeff, I had to tell you what an AMAZING BALLOON SHOW you did at our daughter's 6th Birthday!  You had the whole audience in stitches from the youngest (age 3,) to all the parents and grandparents!  The fact that you could hold the attention of 20 children, ages 6 and under, for an hour, is awesome in itself! 

We all really enjoyed the humor, the magic tricks, and especially the balloon [story] at the end.  Overall the performance was just all around top notch!  Thank you for making our daughter's birthday party all that more special!  We appreciate the great talent(s) you have and that you shared your afternoon with us! Thanks again." -The Smeznik Family
"I just wanted to take the time to tell you how much we all truly enjoyed the magic show that you put on for our son's 6th Birthday party.  Adults and kids alike were completely entertained and we didn't want it to come to an end.  You are an incredibly talented entertainer and we look forward to seeing you perform again in the future.  The balloon twisting creations that you made for the children were absolutely FANTASTIC!!!  Even when a little girl asked for something you haven't made before – the final product was perfect.  Thank you again for sharing your talents and love for entertaining with our family and friends!!!" -Dianna H., Akron
"Thank you so much for coming last night! We [the librarians] all had a blast, and I think the kids did, too. Your balloon show was so full of humor, fun, and tricks. A parent commented to me that you know it was a great show because no one was upset that they weren't chosen to participate. Everyone felt happy just to be in the audience. I appreciate your professional and punctual manner, and we can't wait to see what you'll come up with for next year. Your show went with our summer reading theme very well, and showed children (and parents) that libraries are a place to grow your imagination. We would definitely like to have you back!" -Katie Cooley, Children's Librarian, Grafton Public Library
"You put on a wonderful show! Easily one of the best kids shows we have attended! My son enjoyed it so much that he could not stop talking about it all day. He kept bursting into laughter and talked about your show till he fell asleep." -Shai Eesmaaeel
"We couldn't have been happier to have Jeff at our school carnival! He was by far the biggest attraction at the event! His interaction with the kiddos and parents was amazing! He created a fun-filled environment for everyone! We will definitely be booking Jeff for more events at our school!" -Lisa Inestroza, Overlook Elementary
"Jeff Wright's show was a wonderful combination of humor, magic, storytelling and balloon fun for all ages.  No waiting in line for balloon animals!  This was a real show with non-stop action for nearly an hour.  Lots of audience participation and lots of laughs.  Jeff is always smiling and has a great rapport with the kids.  I recommend him highly!" -David McNally, Cuyahoga County Public Library/Solon Branch
"Hi Jeff, We wanted to thank you very much for doing a WONDERFUL job at our son's party. You were a hit! The kids loved you! You made balloon creations like no other! You are very good at them. The kids are still talking about it! Thank you again for a perfect job!"- Holli, Norton OH
"Jeff, Thank you so much for the great entertainment for our employee picnic.  You are very talented and the kids had a blast.  Thanks again," -Cleveland Clinic, Willoughby Hills Family Health
"Jeff put on a fantastic show! He had all the kids engaged and laughing from the moment he said HI! He was very funny, personable and professional! We will definitely have him back and I would highly recommend him!" -P. Krabill,  Hudson Montessori School
"Jeff, I received nothing but compliments about your act and the kids truly seemed to enjoy themselves. You definitely know your audience. Bottom line is that we all had an excellent time and all the adults really enjoyed themselves as well."
-M. Hughes, BSA Pack 1 Scout B&G Committee Chair
"Jeff: Thank you again from the HOPE committee at CHCS. We were so pleased with the show. We really felt you communicated our theme effectively and with a fun twist that engaged all the kids. Several parents and staff indicated that you were a HUGE hit!  And – you truly are an all around nice guy!" - Caryl, Chapel Hill Christian School
"Jeff, Thank you for doing an amazing job with the balloon creations! Everyone loved what you could do and we greatly appreciate you coming out to contribute to the success of our event." -Monica, Medina Hospital/Cleveland Clinic

"Jeff provided excellent entertainment at our company picnic. He definitely put smiles on our children's faces! The kids were very comfortable around Jeff and just couldn't get enough. We would recommend him for any company event…" -MIM Software Inc.
"Hi Jeff,  Just wanted to say Thank You again for Saturday Evening!  Everyone just loved your work!  They kept saying how friendly and good you were with the kids.  All of our Balloons are still in good shape!  Thanks!!  You're the Best!" -Candice

"You were the hit of the picnic.  Thanks for your service!  I will also refer you to others when I have the opportunity." -Amie, Skylight Financial Group
"Everyone was very pleased with the exotic balloons that you were able to provide our children.  The feedback was very positive.  People described you as 'awesome'." -Johnsonite Flooring
"You were amazing and I thank you very much once again." -Otto Orf
" Hi Jeff,  I wanted to thank you for a wonderful job at our son's birthday party this past Saturday.  Although we didn't have as many kids as I expected, everyone had a great time getting their balloon characters.  You are very entertaining (to the adults as well!).   I know several of my friends are interested in your services for their kids' parties throughout next year. Thank you again and I wish you a great year!"  -Kelley M.
"Thanks again for being there on Saturday.  You and Suzan really gave the kids some great stuff and wonderful memories.  Everyone from the organization was impressed with how talented you two are – really good stuff." -Nathan K., A Kid Again
"Wow…!!! With the deepest sincerity THANK YOU!  The show went off magnificently! The balloons took it over the top!" -Doc H.
"Jeff, I wanted to thank for a phenomenal job last night.  Wow, I think these kids are going to be talking about [my son's] party for a while!" -Cathy K.
"Jeff -  I just wanted to pass along a great big 'THANK YOU' for the job you did at the twins' birthday last Saturday.  Everyone is still talking about you and the incredible job you did!!!  If you ever need a reference, please don't hesitate to send people my way.  You were truly great!!!" -Joe D.
"…thank you so much, my twins party was a hit. My family and friends were so impressed… you both did an awesome job.  Thanks again I will definitely tell everyone about your guys' services, you guys did a great job." - Maria M.
"You did such an awesome job last time- the kids loved you! Thanks"  -Kristen A.
"Thanks Jeff for helping at our carnival!  The kids loved your balloons!" -Hazel
"Hi Jeff.  Your balloons were so amazing!…just wanted to thank you again for the fantastic entertainment.  I know you will go far!" -Heather M.