Hi event planner,
Jeff Wright here.  I am a professional children's magician performing in Northeast Ohio in the Cleveland and Akron areas.  As a children's magician, I perform a 45-minute magic show that is fun for the whole family but focuses especially on children age 3-8.  Those aren't arbitrary ages.  I fill my show with comedy, magic, and balloons that play extremely well for that age range, and I continue to hone my act to make it the best option for children's parties in Cleveland and Akron.  Just like a doctor chooses a specialty, as a magician, my specialty is children's magic shows.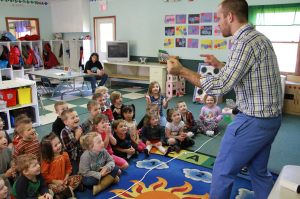 While Jeff the magician entertains the children, Jeff the businessman and responsible adult knows that parents and other event planners have a lot to worry about.  To help ease your mind and to be the best entertainment option for your event (and to be a perfect fit for schools and daycares), I am fingerprinted and FBI and BCI background checked, carry Liability Insurance, and am a licensed substitute teacher.
If you're still not convinced that I am the children's magician for you, I have a page full of honest testimonials, and my company 5Star-Talent.com was voted Best Party Entertainer in Cleveland for the Nickelodeon Parents' Picks Awards.
Lastly, you can take a look at this video and let the giggles do the talking.  Thanks for considering making me the magician for your next event.