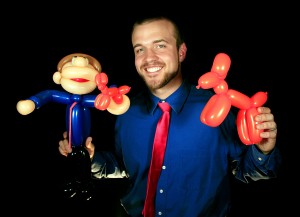 Wright Entertainment, LLC services are ideal for corporate events.  Strolling magic is a great way to entertain guests while they are mingling during cocktail hour or while sitting at their tables.  Balloon entertainment fills the event with colorful and unique creations that keep the guests smiling in amazement.  Both services are also ideal for summertime outdoor corporate events like picnics or BBQs, and large holiday parties.
CONTACT US now to discuss your entertainment options.
Attention HR: Are you beginning to plan your Summer events?  Summer time slots can disappear quickly.  Wright Entertainment, LLC provides a phenomenal diversion for your guests at large family holiday events.
CONTACT US today to save your spot!